"I guarantee you, we are the largest and finest winery facility in Oakland," were the first words I said to the reporter from the Oakland Tribune, way back in 2004.
It is true now, and it was true then, when Dashe Cellars and J.C. Cellars (now Jeff Cohn Cellars) combined forces and managed the only winery facility in Oakland.
Since those early days when the Dashes and the Cohns started working together in the big red building at 55 4th St, we've seen the urban wine movement skyrocket to over 2-dozen wineries in the East Bay alone.
We've spent … Read more
---
Have you ever tasted a wine so stunningly beautiful that you fantasized about quitting your day job and pursuing the life of a wine maker?
Well, for 28 of our Wine Club members and their guests, they were able to realize that dream for a day during Dashe Cellar's annual Blending Workshop. Mike, Anne, and Rene—our wonderfully talented Assistant Winemaker—walked the group step-by-step through the basics of creating wine blends, and eventually, to the creation of their very own wine.  The intensity of the creative process was palpable as each member measured, poured, sniffed, tasted, and re-combined wines to their … Read more
---
On April 5th, 2014, the staff of Dashe Cellars, headed by myself and my co-winemaker/owner (and wife) Anne, busily set out to create close to 20 new winemakers.  The results were delicious.
It was, in fact, the second annual Dashe Cellars Blending Workshop and the participants were twenty of our wine club members and guests, who had taken the brave step of entering the world of test tubes, erlemeyer flasks, and 10 ml syringes to learn what goes into blending wines together to create ethereal finished products.
Wine was spilled.  Husbands and wives fought over percentages of Petite … Read more
---
The holidays are here, doubled up and bursting with energy. We had Thanksgiving and Chanukah on the same day (we put a mini-yarmulke on the turkey for a minute, just to make the point during the Thanksgiving blow-out feast). No candles. No presents. However, my step-mother Susan managed to add a brisket of beef to the festivities to make it seem a little more ethnic. A great time was had by all.
Turns out that our Dashe Cellars 2009 pure Grenache rose was an ideal start to a turkey dinner (it was extremely pale, bone dry, and tasted like a … Read more
---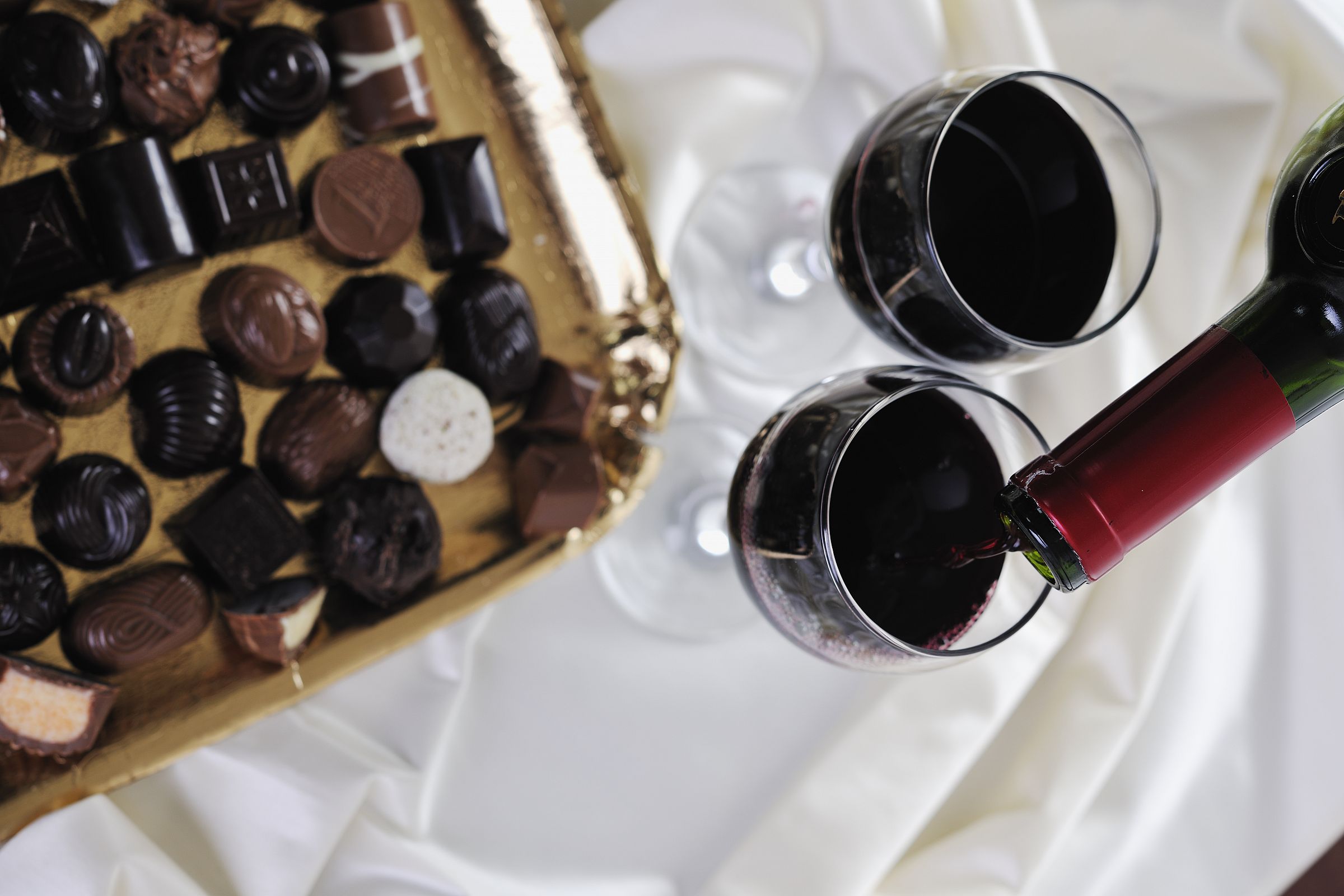 At Dashe Cellars, we take our Late Harvest wines seriously.  It's not like any other wine we make—each year, it's a guessing game to see if the conditions are right to let grapes ripen late, often into November.  It's high-stakes poker.  Guess wrong, and you've turned many tons of expensive grapes into a bunch of dried up raisins.  Guess right, and you've created an exquisitely intense wine.
Frankly, I think that we are a bit masochistic to make late harvest wines.  There's a lot of risk in making it, and most winemakers don't want to take the chance.  But, … Read more
---
Fall means different things to different people, but to winemakers, it's a time of great promise and excitement, coupled with an overwhelming sense of dread and frequent nail biting. Take a year like 2013. Everything looks perfect so far–the weather has been ideal, not too hot, not too cold, no rain to speak of, no floods or earthquakes or (thankfully, considering the rest of the state) fires. The grapes are ripening in a textbook picture-perfect manner. The flavors are great. The clusters are ideally shaped. The vineyards look like one of those movies about harvest in Tuscany–all greens and oranges … Read more
---
Ever spent five days in paradise?
We just did.
I've been river rafting before, when I lived in Idaho, but this five-day trip down the Rogue River in Oregon just blew all of our minds in the Dashe family. I wouldn't be surprised if Anne is about to quit the wine biz and become a river guide.  Our head guide said that she had an innate sense of how the river worked—a real natural—and I believe it. Together, Anne and I paddled our hearts out going down some really adrenaline-producing class 3 and 4 rapids—and Claire and Emilie loved every … Read more
---
Bottling.  It's a word that strikes fear in the heart of most self-respecting winemakers.  All winemakers know that the best outcome to any bottling is for nothing eventful to happen.  The worst is that a wine you've been tending like a baby for the past 6 to 24 months is destroyed in a blink of an eye.
We just finished a big bottling in April, where we bottled a bunch of summer wines— including the Vin Gris, the Dry Riesling, and the Dry Creek Grenache "Les Enfants Terribles"—and as always, I prayed to the winemaking gods to make sure that … Read more
---
January is always a rocking month, both because we're preparing to bottle wines that have been sitting in barrel for 14 months, and because it's the month of ZAP—the biggest and most raucous wine-tasting event in the country.
ZAP is like conducting a professional wine tasting during a Grateful Dead concert.   It's a huge meeting of professional journalists, sommeliers, wine retailers, and zinfandel consumers—all trying to taste and talk at the same time.  Hundreds of wineries. Thousands of tasters.
Our table, at Dashe, is always swamped.  From 10 am to 5 pm, there wasn't a break.  Journalists, consumers, other winemakers, … Read more
---
Looking for something to do with the last of that Thanksgiving bird? Why not ground it up and go out in style!
This turkey meatloaf is a recipe from our very own Sally Gordon, former owner of Gordon's Cafe & Wine Bar in Yountville, and is the ultimate in winter comforts foods. You may like to wash this down with a little of our             2010 Dry Creek Valley Zinfandel or possibly even the  2011 McFadden Farm Zinfandel

Read more
---
Wow, what a year! The harvest of 2012 will be one for the record books, for sure. Now that it's finally over, I can take a deep breath and reflect on what just happened.
It was the kind of vintage that only happens one or two times each decade: unusually high quantities of grapes and unusually high quality of grapes. Think of 1991, 1997, 2001, or 2007 for previous vintages like this. We probably crushed 30% more grapes than usual and all the wine produced was of superb quality. If we had wanted to crush more, there were plenty of … Read more
---
I left early this morning with my dog Dakota on a trek (or pilgrimage) to the Olney ranch, 12 miles up Skaggs Springs Road in the extreme north-west of the Dry Creek Valley appellation. It takes forever to drive to the ranch, which is up one of the most curvy, seemingly endless roads in Dry Creek–just one ridge over from Rockpile, and about the same elevation.
The vineyard looks like one of those incredibly steep vineyards in Germany or Portugal, clinging on to the side of the mountain, with terraced rows that take forever to sample. Great rocky soil, high … Read more
---